Powerful and Efficient — High Quality airguns manufactured by www.rtiarms.eu
The Prophet II has a new assisted valve, a new breech block with an integrated 70ccm plenum, and new RPB barrels in 5,5mm (.22) and 6,35 (.25) which shoot slugs as well as pellets very well. The new valve is much more efficient and allows for greater power with lower pressure settings than with the original Prophet.

You will also notice other minor features such as the cocking handle staying fixed in its forward position, unlike with the original Prophet with which it was rather loose.
For the original Prophet, the differences are that the Performance version comes with an externally adjustable regulator, a 500cc carbon fiber bottle, an extended stock with adjustable hammer spring tension, and plenum extension, while the standard version has a fixed regulator, a 320cc aluminum bottle, standard stock, and no plenum extension.
With the Prophet II, the differences are mainly the externally adjustable regulator, the adjustable hammer spring tension, and the larger carbon fiber bottle. The plenum is already much larger than with the original Prophet, hence no plenum extension is needed.
The compact versions are meant to be more portable and overall less bulky. This means shorter barrels and smaller bottles. All the original Prophet Compact have 400mm (16") barrels, while the Prophet II Compacts have 500mm (20") barrels (except the 4,5mm/.177 which has a 510mm barrel). Instead of the standard 320cc aluminum bottle, the Compact versions have a 240cc bottle, which makes them much less bulky. Energy wise there is, of course, a compromise as shorter barrels mean slightly less velocity.
RPB means RTI Proprietary Barrel. The RPB barrel was specifically designed by Lothar Walther to match perfectly with the RTI Prophet II. Both the standard and performance versions carry the 600mm barrel, which has a 1:16" twist rate for the 5,5mm (.22) and 1:20" twist rate for the 6,35mm (.25) barrel. The RPB barrel has a light choke and shallow grooving, making it a very good barrel for both slugs and pellets. 4,5mm (.177) and 7,62mm (.30) versions come with the original Lothar Walther barrels.

510mm versions of the RPB Barrels are also available. Of the Compact versions, only the 6,35mm (.25) comes with a 500mm RPB Barrel.
You can choose the fixed regulator to be set at 125, 145, or 175 BAR. You can always upgrade your standard version by getting the externally adjustable regulator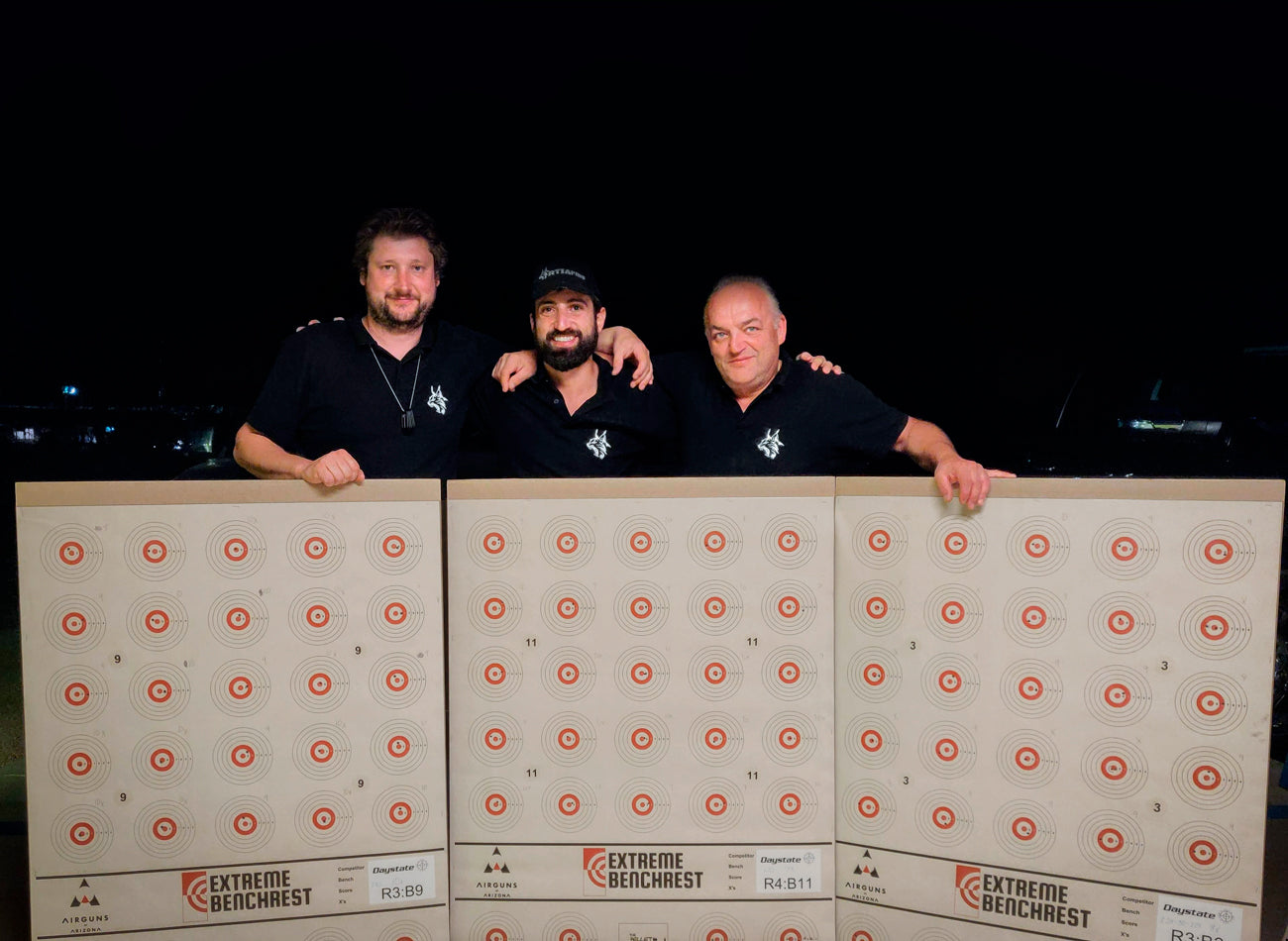 TUNED BY FRANCISCO
Our top shooter Francisco won the 50-yard segment at the Extreme Bench Rest 2019.
Given this precedent, we put Francisco to work and give us his best custom setups for RTI Airguns - this is what a pro shooter goes to work with every day.
WOLFIEK GROUP DEALS
We are thrilled to introduce to you a selection of items intended for customization and/or enhancement of your experience in the use of our RTI airguns.
Each one of these products was selected by Wolfiek Group to perfectly pair up with your RTI.
NEW
HUSH SUPPRESSORS
RTI Hušh is a brand new suppressor for airguns. It comes in tactical black anodised aluminium or pure carbon fiber tube.
Learn more
new
Bipod Rail Extension
In order to get greater accuracy, bipod should be mounted as far forwarder as possible. With Bipod Rail Extension you can now do that.

It also includes Arca Swiss dovtail for tripods and T slot for accessories.
Learn more
BAG RIDER
A lot of shooters asked us to make a Bag Rider to be able to get more stable platform when shooting.

Bag Rider is made from lightweight aluminium and is compatible with older versions as well.
Learn more